1. By constantly sleeping on your left ear, when pierced on this side, you can cause irritation and the piercing may grow out. Naturally, this also applies for other parts of the body.
2. Wearing clothing that is too tight can cause friction. This may cause irritation and could lead to complications.
3. A weakened immune system can cause your body to reject the piercing. Therefore, people who are often sick will need to be extra careful.
4. Wearing the wrong piece of jewelry or studs and/or rings that are too heave is not advised.
5. Changing jewelry too quickly after the first initial titanium stud can cause your piercing to grow out as well.
6. Poor aftercare and neglecting to clean your piercing is detrimental.
7. It is of great importance to be careful and pay attention so that your piercing won't get stuck to pieces of clothing or any other items.
8. Never wear a stud or piercing that is too short. When you don't leave enough room for your piercing when possible swelling occurs, you are not allowing your body to heal properly.
9. Be mindful when you visit a hairdresser and inform them about any piercings you have that might get in the way. Not informing them is an accident waiting to happen!
10. If you never allow your piercing to breathe, you will increase the changes of it growing out. This mostly happens when you wear clothing that is (too) tight or when you constantly wear a hat over your ear piercing(s).
If you want to get a new piercing, it is now possible to schedule your appointment with us! Get pierced when it suits you! You can pay right away, so you don't have to think about it during your appointment.
Aphraheals - Piercing Aftercare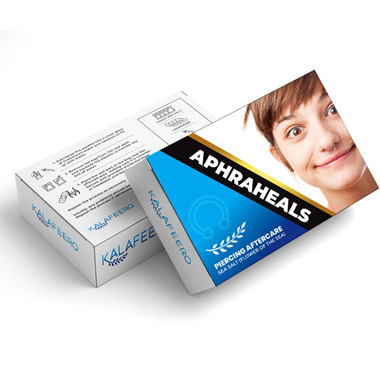 Medical Silicone Piercing Discs