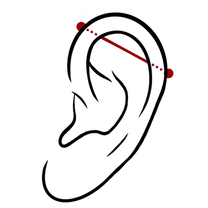 Industrial piercings are basically a pair of piercings that are connected by a single, straight piece of jewelry. One piercing is done in the area of ​​the anterior helix and the other is placed in the opposite side of the ear.
Generally, a single barbell is used to connect them, but many different styles are used.
Industrial barbells which are mostly made of nickle-free surgical steel 316L. The barbell posts have a standard thickness of 1,6mm.
Piercings
Ear Piercings
Daith - Migraine Piercing
Snug Piercing
Helix
Earrings
Industrial Barbells
Tragus
Conch
Rook
Anti-Helix piercing
All Ear Piercings
Charms
Piercing Course
Nose & Septum Piercings
Surgical Steel Nose Piercings
Bioplast Nose Piercings
Silver Nose Piercings
Various Nose rings
Solid Gold Nose Piercings
Brass Septum Piercing Rings
Silver Septum Piercing Rings
Septum Piercings
Extra Large Piercings
Piercing Retainers
Intimate Women
Dermal Discs
Spirals & Stretchers
Premium Zirconia
Premium Zirconia - Silver 925 Rings
Luxury Goods Crystal
Loose Balls & Pins
Various Barbell Posts/Pins (1,2mm & 1,6mm)
Various Balls (1,2mm)
Crystal Evolution / Premium Zirconia Balls (1,6mm)
Surgical Steel 316L Balls (1,6mm)
18K Gold Plated Balls (1,2mm & 1,6mm)
14K Solid Gold Balls (1,2mm & 1,6mm)
Eyebrow Piercings
Black Surgical Steel Eyebrow Piercings
Surgical Steel Eyebrow Piercings
18K Gold Plated Eyebrow Piercings
14K Gold Eyebrow Piercings
Tongue Piercings
Surgical Steel Tongue Piercings - Premium Zirconia
Surgical Steel Tongue Piercings
18K Gold Plated Tongue Piercings
14K Gold Tongue Piercings
Tunnels & Plugs
Solid Gold & Gold Plated Tunnels & Plugs
Glass and Stone Tunnels & Plugs
Surgical Steel 316L Tunnels & Plugs
Bling Bling Tunnels & Plugs
Acrylic Tunnels
Acrylic Plugs
Black Surgical Steel Tunnels & Plugs
Silicone Tunnels & Plugs
Streching - Expanders
O - Rings
Brass Tunnels & Plugs
14K & 18K Gold Piercings
14K Solid Gold Balls (1,2mm & 1,6mm)
Solid Gold Belly Rings
14K Gold Labrets
14K Gold Piercing Rings
14K Gold Nose Piercings
14K Solid Gold & 18K Gold Plated Nipple Piercings
14K Gold Tongue Piercings
14K Gold Eyebrow Piercings
Nipple Piercings
Silver Nipple Piercings
Surgical Steel Nipple Piercings
14K Solid Gold
Belly Piercings
Surgical Steel 316L Belly Rings - Premium Zirconia
Surgical Steel 316L Belly Ring - Crystal Evolution
Solid Gold Belly Rings
Bioplast Pregnancy Belly Rings
Surgical Steel 316L Belly Rings
Surgical Steel 316L & Silver Belly Rings
18K Gold Plated Belly Rings
Titanium Belly Rings - Crystal Evolution
Brass and Surgical Steel 316L
Piercing Rings
Black Surgical Steel Piercing Rings
Surgical Steel Piercing Rings
2 Micron 18K gold plated Piercing Rings
14K Gold Piercing Rings
Brass Septum Piercing Rings
Silver Septum Piercing Rings
Labret (Lip) Piercing
Black Surgical Steel Labrets
Surgical Steel Labrets
Bioplast Labrets
2 Micron 18K Gold Plated Labrets
14K Gold Labrets
Special
Accessories
Coming Soon
First Titanium and Gold Sterile Piercings