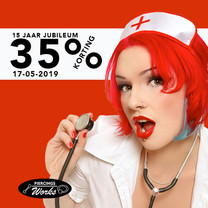 Piercings Works celebrates its 15th anniversary on 17 May!
We like to celebrate it with you, so that means a big discount!!!
Not 10% ... not 25% ... but 35% discount on our birthday!
This discount applies to EVERYTHING in the store and to have a piercing or tattoo done!
Does this sound like something for you? Then come and congratulate us on 17 May!
It is of course also possible to set the time for your piercing or tattoo in advance!
Go to www.piercingzetten.com and use the code 15JAARSHOP to plan your appointment and claim your discount!
For a tattoo appointment come to the studio!
We look forward to seeing you on our birthday on 17 May!