Wat is een helix piercing?
Een helix piercing is elke piercing die in het bovenste kraakbeen van het oor wordt gedaan - maar er zijn verschillende soorten helix piercings. Een standaard helix piercing wordt geplaatst in het buitenste bovenste kraakbeen, maar je kunt ook voorwaartse, achterwaartse, dubbele of zelfs driedubbele helix piercings nemen.

Wat is een forward helix piercing?
Wat is het verschil tussen een forward helix piercing en een backward helix piercing? Het is vrij simpel: volg de ronding van je kraakbeen rond het oor tot je de zijkant van je gezicht bereikt (d.w.z. recht boven de tragus), dit piercing gebied wordt een voorwaartse helix genoemd. Je kunt ook dubbele of driedubbele voorwaartse helix piercings nemen.

Wat is een dubbele helix piercing, of triple?
Terwijl de klassieke helix inhoudt dat het bovenste, buitenste kraakbeen eenmaal wordt gepiercet, wordt het zetten van twee of drie piercings op dezelfde plek, net boven elkaar, dubbele en driedubbele helix piercings genoemd. Het gaat dus om dezelfde piercing, dit is een verwijzing naar het aantal helix piercings dat je in hetzelfde oor laat zetten.

Doen helix piercings pijn?
Pijntolerantie varieert, maar over het algemeen zal je helix meer pijn doen dan je oorlel omdat hij in het kraakbeen wordt gedaan. Kraakbeenweefsel is dikker, waardoor er meer kracht nodig kan zijn om er doorheen te prikken. Maar de pijn is tijdelijk en zal niet lang aanhouden.

Hoe lang duurt het voordat een helix piercing is genezen?
De genezing is afhankelijk van verschillende factoren zoals je algehele gezondheid, slaap- en stressniveaus en nazorg, maar het is goed om rekening te houden met een genezingsperiode van minimaal 2 maanden. De initiële genezingstijd voor een helix-piercing is twee tot vier maanden. Het duurt echter zes tot negen maanden totdat de piercing volledig is genezen.
Hoe zit het met de nazorg?
Een goede nazorg is essentieel om ervoor te zorgen dat je piercing er niet alleen goed genezen uitziet, maar ook zo aanvoelt. Blijf van de piercing af en draai of speel er niet mee. Gebruik tweemaal daags een zoutoplossing of zoutspray (Aphraheals -link). Je moet ook oppassen voor haken en ogen en slapen op de piercing, omdat dit het genezingsproces kan belemmeren.
Gebruik voor het schoonmaken van de piercing een zoutoplossing. Het zout helpt overtollige afscheiding te verwijderen en verhoogt tegelijkertijd de bloedcirculatie.

Wat moet ik doen bij een ontstoken helix piercing?
Hoewel enige irritatie gebruikelijk is, zou er met de juiste nazorg geen ontsteking moeten ontstaan. Het is volkomen normaal om kortstvorming (dode huidcellen), zwelling, gevoeligheid, jeuk, blauwe plekken of wat pijn te ervaren.Deze symptomen duren meestal maar een paar weken. Mocht je andere symptomen ervaren of veel last blijven hebben van pijn of roodheid, dan is het aan te raden om terug te gaan naar je piercer.

Helix piercing sieraden
De meest gangbare sieraden voor de helix piercing zijn een ringetje of labret.
Je piercer zal kiezen voor een labret tijdens de genezing. Zodra je piercing is genezen kan je het sieraad naar je persoonlijke stijl aanpassen.
Eindelijk jouw nieuwe piercing laten zetten? Maak je afspraak hier.
AphraHeals - Piercing Zeezout Pleister Tegen Ontsteking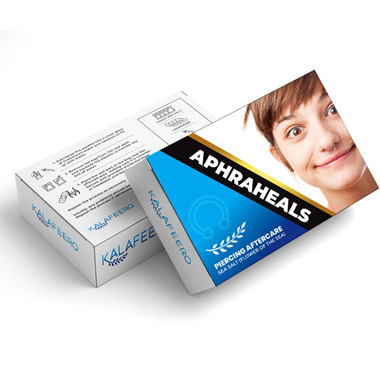 Besteed jij jaarlijks 100 euro of meer in onze studio of online shop? Dan is het VIP membership voor jou! Als VIP member heb je toegang tot exclusieve acties en kortingen en ontvang je na een jaar een voucher t.w.v. €50,-
Schrijf je nu in via deze link.